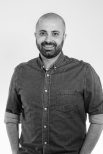 Most of my career has been as founder or CTO of venture-backed startups in the Bay area and Toronto, three of which were acquired and two reached millions of users. I'm a seven-time startup CTO, currently at BFS Capital, building the next generation financial services platform that will form a foundation for small businesses to recover and resurge in the post-COVID economy.
Prior to BFS Capital, I started an AI company that used machine learning to predict customer churn for B2B SaaS companies. Just as we signed our first paying customer, COVID hit, and well, COVID hit. Up until the end of 2019, I led the product, design, engineering and customer success teams at Influitive, a late-stage B2B SaaS company whose customers include 8 of the 10 largest software companies in the world.
Before Influitive, I was part of the founding team at Loblaw Digital – the team responsible for digital and e-commerce at Canada's largest retailer. I led engineering, data science, QA and support and built a team of 150. We grew the eCommerce business from zero to nine figures in four years through the launch of four distinct eCommerce and customer engagement platforms. Loblaw Digital has now scaled to the north of $1B in revenue. I also had a tenure at a seed-stage VC firm in San Francisco, where I cut my teeth on the startup business and three very formative years at Deloitte as a management consultant. I have an MBA from UC Berkeley, a B.Sc.H. in Computer Science, and a B.Sc in Mathematics from Queen's University.
I take my work pretty seriously (most of the time), but I have three kids and a wife that come first. Soccer comes second. I've played since I could walk and coached the last ten years – Coach of the Year 2019 U12 Boys @ Erin Mills Soccer Club!
If you'd like to reach me, drop me a line at raif (at) raif dot com – or at https://www.linkedin.com/in/raifbarbaros/